There is no record of any grant of arms to any Lybbe; probably this is because it was not uncommon to assume arms, possibly with the help of a heraldry specialist to design them and to ensure that they were unique. Whatever their origin, no-one has criticised them for being unheraldic.

The arms are first documented in the visitations of Oxford. The published version of 1869 is not clear what entry was made for what visitation of the three or four in this book: those of 1566, 1574 continued in 1597 and 1634. The probable first entry is on page 174 and internal evidence dates the original entry to the 1574 visitation: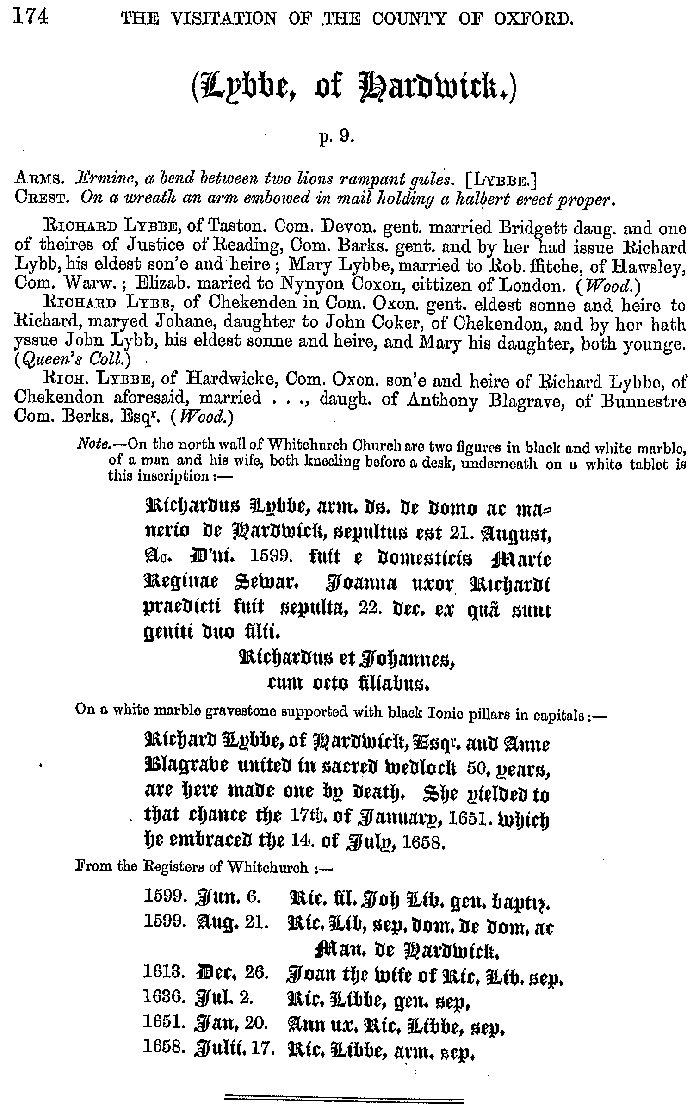 The curious feature of this entry is that the first two paragraphs were clearly taken about 1574, when John the eldest son was 'young'. The third paragraph then refers to a Richard as being the eldest son and to have been married to a dau. of Blagrave; this make the third paragraph to have been written after 1601, so it forms part of someone's additional notes made long after the original visitation. Following this added third paragraph it includes details of the memorial in Whitchurch church which was erected after 1613, and on the memorial it gives one to understand that Richard was the elder son and John the younger. The truth was uncovered by my brother Martin, that John the physical elder was in fact born before his parents' marriage so could not be the heir.
All that said, and thereby giving lots of warnings about published visitations, particularly the early ones, the book contains a second visitation entry, p. 279, which is fairly clearly from the 1634 visitation:
I have omitted the monumental inscriptions added to the above entry as they were added possibly by the editor of the book and likewise for the monumental inscriptions for the first entry.
The Lybbes appear finally in the last Oxford visitation of 1669-75 which is in a totally different sort of book, being done directly from the records in the College of Arms.